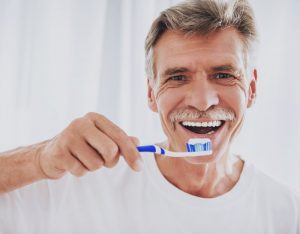 Due to COVID-19, more people are paying attention to their personal hygiene than ever before. However, what a lot of people fail to consider is their oral hygiene specifically. Since the mouth is a gateway to the rest of the body, it's imperative that you prevent germs from entering your mouth if at all possible. That's why a dentist has given these tips for avoiding COVID-19 by practicing excellent oral hygiene.
Wash Hands Before Brushing
We all know that the virus spreads by people touching their face (and their mouth in particular) with unwashed hands. However, many of us frequently touch our toothbrushes and place them in our mouth without washing our hands first. It helps to develop a routine of washing your hands and then brushing and flossing.
Disinfect Your Toothbrush Weekly
At least once a week, give your toothbrush a deep cleaning by:
Running it through a full dishwasher cycle
Boiling it for five minutes
Soaking the entire brush in a solution of either 70% alcohol or one part bleach to nine parts water
Rinse Brush After Each Use
This might sound like common sense, but believe it or not, some people don't adhere to this rule. Make sure to rinse your toothbrush with hot water, as the high temperature has a better chance of killing any germs that may lie on your brush.
Store Your Toothbrush in a Safe Place
Don't keep your toothbrush hidden away in a travel case or a drawer. Dark, damp places like these can quickly become breeding grounds for bacteria. Also, don't let anyone else's toothbrush touch yours. If you live with someone else, it's best that everyone has their own toothbrush holder to avoid the transfer of germs.
Don't Share Toothpaste or Floss
As a general rule, you shouldn't share dental hygiene products with anyone, even your significant other. That includes toothbrushes, tubes of toothpaste, and containers of floss. This is another method of preventing the spread of germs from person to person.
Replace Your Toothbrush If You Get Sick
After you recover from an illness, whether it's the coronavirus or not, you need to buy a new toothbrush and throw away your old one. If you don't, then the germs that were present on your old toothbrush could get you sick all over again.
Along with staying home unless you absolutely have to go out, sticking to these practices is a great way to prevent the spread of the coronavirus while also keeping your teeth clean and healthy.
About the Author
Dr. Darryl Halbert is a 1987 graduate of the Medical University of South Carolina. He has advanced training in several areas of dentistry, such as dental implants, cosmetic dentistry, and sleep apnea treatment. His practice, Tylan Creek Family Dentistry, is currently only taking dental emergencies. If you think you might have one, or you want to learn more about slowing the spread of COVID-19, visit Dr. Halbert's website.