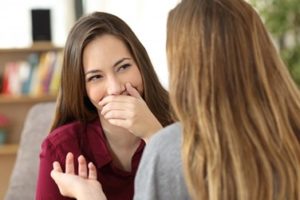 If your smile makes you feel less than confident, you aren't alone. Studies show that about 80 percent of American adults don't like their smile. Feeling confident about your dental appearance can change your life. It can make you feel better about yourself, cause you to smile and laugh more and even reduce your stress levels. If you're dealing with these 3 cosmetic dental flaws, you have options! Keep reading to find out how cosmetic dentistry can help.
Dental Stains
There are many reasons for tooth discoloration. Age, medication, nicotine, certain foods and drinks can cause your teeth to develop a yellow or brown tint. Some believe they can scrub the stains away with forceful brushing, but this will only cause your teeth to become more yellow. Why? Because scrubbing your teeth can result in you brushing away your enamel. When this happens, what's left behind is dentin, which is naturally yellow in color. It will also cause you to develop dental sensitivity.
The Cosmetic Correction: An in-office teeth whitening session with our dentist might be just what you need. Philips Zoom WhiteSpeed professional whitening can make your smile up to 8 shades brighter in just one session! Your dental team will apply the professional-strength gel to your teeth and activate it using a special light. Another option is to purchase an at-home whitening kit. Your dentist will take an impression of your teeth to create a set of custom-made dental trays for you. They will also provide you with a whitening gel that is much stronger than the over-the-counter whitening kits that you will find in your local grocery or drug store.
Broken or Cracked Teeth
Taking a hit to the mouth while playing a sport, crunching on ice or grinding your teeth while you sleep can all cause your teeth to break or crack. Fractures can be completely painless, or they can make sipping hot or cold drinks excruciating. They can be easy to see, or you can have hairline cracks that aren't visible at all. Whether or not a chipped or broken tooth hurts, it will definitely cause problems for your dental appearance.
The Cosmetic Correction: If you have broken or cracked teeth, veneers can you're your smile a new look. This treatment can be completed in as few as two visits. Veneers are thin porcelain shells that are custom-designed to fit over the surface of your teeth. They are very long-lasting and won't break or crack like your natural teeth.
Tooth Decay
Poor dental hygiene can allow harmful bacteria to wear away at your enamel and cause cavities. When left untreated the decay can make its way to your tooth's root allowing bacteria to infect your dental nerve, causing it to die. Once this happens, you will need a root canal. Once this is complete, your dentist will then take steps to rebuild your tooth.
The Cosmetic Correction: Depending on the amount of damage to your tooth, your dentist may recommend a metal-free crown. This restoration is crafted from a block of dental ceramic and can conceal cosmetic irregularities. It is the same process as receiving a traditional crown. Once it custom-designed and placed onto your tooth, you will be left with a beautifully flawless smile.
Correcting your dental issues is likely much easier than you imagined it would be. You deserve to have a beautiful, confident smile you've always wanted, and your cosmetic dentist is ready to help you achieve it!
About the Practice
The team of dentists at Tylan Creek Family Dentistry is dedicated to providing every patient with the personalized, comprehensive dental care they deserve. The combined knowledge and experience of the 6 dentists on staff gives them the ability to treat a wide range of dental issues. Their services include preventive dentistry, restorative dentistry, cosmetic treatments and more. If you're ready to reclaim your dental health and restore your beautiful smile, contact the office at (864) 962-6671 or visit the website to schedule your appointment today!