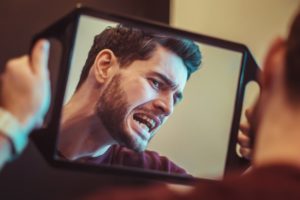 Nobody wants the main focus of their smile to be cosmetic dental flaws. Your grin is often the first trait that people notice about you, making or breaking their initial impression of you. If you don't feel confident letting your smile show due to dental discoloration or damaged teeth, you may appear (to somebody who has never met you before) as not as friendly or approachable. By fixing these imperfections and boosting your confidence, you can make the best first impressions. Read on to learn the top three cosmetic dental flaws and how your dentist can fix them.
Stained or Discolored Teeth
Dental discoloration is nothing to be ashamed of, because it actually happens naturally. The more foods you eat that contain tannins, like red wine and soy sauce, the more stained your teeth may appear. This issue can also occur due to taking certain medications and poor oral hygiene as well. Many patients are tempted to buy over-the-counter teeth whitening kits first to see if they can save money while getting the results they're hoping for. Unfortunately, these aren't always safe for your enamel, and they very rarely deliver the lasting, trusted results you're looking for.
Professional teeth whitening from a cosmetic dentist can be completed in-office or at home, depending on your needs. It uses highly concentrated ingredients that have been clinically tested and proven by the ADA to be both effective and safe to use on your teeth. Within as little as an hour for in-office treatment or two weeks for take-home treatment, you can enjoy results that can last for up to a year.
Misaligned & Crooked Teeth
Some adults may never have had the chance to undergo orthodontic treatment to fix teeth that are misaligned and crooked. It's never too late to address these problems, and today, you don't have to commit to years of having metal brackets and wires in your mouth. With ClearCorrect clear aligners, you'll be able to fix mild to moderate orthodontic problems without drawing attention to your appliance. That way, you can preserve your professional appearance, go on dates, and ace important job interviews without worrying about looking like a teen again.
Damaged, Chipped, or Cracked Teeth
Over the years, dental chips, cracks, and damage can have a drastic impact on the appearance of your smile. Even if the damage is minor, it takes away from the symmetrical, healthy look of your grin and can make you feel embarrassed of letting your smile show. Cosmetic bonding is a cost-effective, simple, and fast procedure that can make your grin look whole again without breaking the bank. If you have more severe damage, porcelain veneers may be an even better option for you!
Dental imperfections are a problem that most people face, so trust that you're not alone. At your initial consultation, your cosmetic dentist can walk you through helpful procedures and provide you with all of the information you need to make the best decisions for your confidence, oral health, and future success!
About the Practice
At Tylan Creek Family Dentistry, our team of experienced dentists works together to achieve ideal results and custom-tailored cosmetic treatments. With so much experience and advanced knowledge under one roof, our team is able to offer truly comprehensive dentistry, along with a wide variety of cosmetic treatments, including ClearCorrect, teeth whitening, and much more. To schedule a consultation and learn what treatments can help you regain your confidence, visit our website or call 864-962-6671.