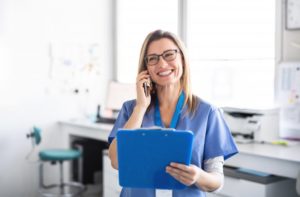 As the holiday season approaches and the COVID-19 pandemic rages on, many Americans are looking to cut back on unnecessary expenses. For some people, that means canceling their routine dental checkups and cleanings. While you may think this saves you money, it can actually end up costing you more in the long run, especially if you have dental insurance. On average, less than 3% of Americans exceed their annual limits, so you very likely have benefits remaining. Skipping out on your checkups is like throwing money down the drain. Keep reading below to learn how these appointments can benefit your wallet as well as your smile.
Make Your Dental Care More Affordable
Even though about two-thirds of American adults have dental insurance, most of them don't see their dentist nearly as often as they should. Many people believe they can't afford to go unless and until they're in pain, but the opposite is actually true. Although every policy is different, most dental insurance plans completely cover the cost of preventive services like checkups, cleanings, and x-rays.
If a problem comes up, such as a toothache or an injured tooth, your insurance should cover a portion of the cost of treatment once you've reached your deductible. After that, you're given a limit (called your annual maximum) of coverage you can use to mitigate the cost of treatments. Until you reach this limit, your insurance may cover up to 80% of the cost, depending on the type of treatment you need.
Prevent Serious Oral Health Issues
Dental insurance primarily covers preventive care because research has shown that it reduces overall dental expenses. In fact, for every dollar spent on prevention, you can save an estimated $50 on restorative or emergency treatment later on. For instance, regular cleanings could get rid of built-up plaque that might otherwise cause a cavity. That cavity may warrant a filling or even a more extensive procedure like a root canal in order to treat. These procedures are not only pricier, but more time-consuming than routine appointments.
Maximize Your Dental Insurance Benefits Today!
If you haven't met your annual maximum by the end of the year, any unused benefits will unfortunately disappear. That means that you're essentially throwing away the money you pay in premiums! In order to save money on insurance coverage and long-term dental care costs, schedule a checkup before the year ends. Your smile and your bank account will thank you!
About the Practice
At Tylan Creek Family Dentistry, our skilled dentists have unique expertise in several areas of dentistry. Our friendly team members are happy to process and file claims for most major dental insurance providers. We can help you understand your policy and make the most of your available benefits. To schedule your checkup or learn more about how your dental insurance works, contact our Simpsonville, SC office at 864-962-6671.