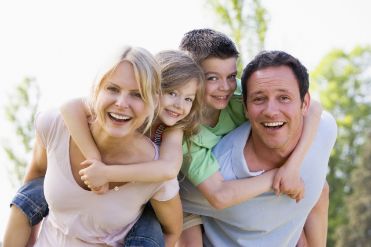 When it comes to finding a high-quality family dentist for you and your loved ones, it can be hard to know where to start. Fortunately, we live in a day and age where you can find a lot of information by reading online reviews and looking at a dentist's website. But what should you look for once you're there? Use the 4 tips below to guide your search and find a great fit for your family from the very beginning!
1. Look For a Dentist Who Offers Multiple Services Under One Roof
Getting comprehensive dental care in one place can make life a lot easier, especially when you're trying to meet the needs of multiple family members. You'll not only have less paperwork to fill out, you'll also get coordinated care from a team of dentists in just one office.
In addition to general dentistry such as fillings, root canals and crowns, look for additional services such as:
Children's dentistry
Gum disease treatment
Options for clear braces like ClearCorrect
Dental implants
Cosmetic dentistry
TMJ therapy
Sleep apnea treatment
2. See If They Use Modern Technology and Equipment
Dentistry has come a long way over the years and modern technology makes it more comfortable and efficient than ever. Look for things like CEREC one-visit dental crowns. As the name implies, CEREC means you don't have to schedule 2 appointments the way you would for a typical dental crown.
Another example is a CT/Conebeam Scanner, which takes incredibly detailed, 3-dimensional images of your teeth and jaws. These images allow for unmatched precision and accuracy during procedures like dental implants. And, ultimately, you get better quality and long-term results.
3. Find a Dentist Who Sees Patients of All Ages
Everyone in your family will have different needs at different times. Your toddler may need a kid-friendly checkup and cleaning, you may need sleep apnea therapy, and your spouse may want to whiten their teeth. By seeing a family dentist who sees patients ranging from 1 year old to 100 years old, you won't have to coordinate care between multiple offices or drive all over town for appointments.
4. Make Sure They Offer Emergency Care
Life is unpredictable and a dental emergency can strike at any time. Since you can't always prevent an emergency from occurring, it's helpful to find an office that has multiple dentists on staff. This way, they can have extended office hours and at least one dentist on call 24/7 to be there when you need them.
Taking the time to find a great family dentist is well worth it. With these 4 tips, everyone in your family will get the care they need to have a healthy smile for life!
About the Author
Dr. Abbie Coleman is a family dentist and a graduate of the Medical University of South Carolina. Known for high-quality care and a compassionate chairside manner, she cherishes the long-term relationships she's built with patients of all ages. If you'd like more information about finding a family dentist or have any questions, she can be reached via her website.