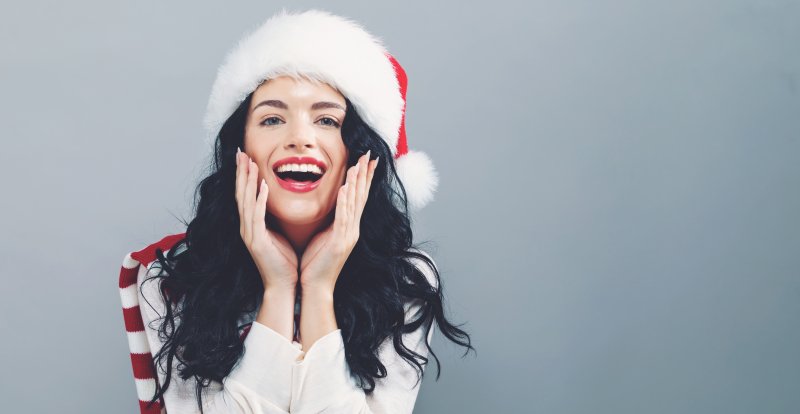 The family is coming over for the holidays, and that means plenty of opportunities for pictures. Unfortunately, many people feel that their smiles have become less than dazzling over the years and find it hard to show off those pearly whites for the camera. Fortunately, with the help of your cosmetic dentist in Greenwood, there are 4 ways you can leave your teeth looking nice and bright for the holiday season.
1. Teeth Whitening
Plenty of people wish their teeth could be perfectly white like the smiles you see on television, but natural wear and tear combined with years of drinking staining beverages such as coffee may have left your enamel looking duller than you'd like. However, with a professional's help, you can get your teeth looking up to eight shades whiter – and all over the course of an hour-long dental appointment! Teeth whitening in Greenwood can be used to address many different kinds of discoloration; schedule a consultation with your dentist to see if it would be an effective option in your case.
2. Porcelain Veneers
Porcelain veneers are thin sheaths that bond with the front of your teeth. Many dentists consider them to be an excellent option for many patients simply because of how versatile they are. Are your teeth chipped and cracked? Are they slightly misaligned, or are there small gaps between them? Is there some kind of stain or discoloration that traditional whitening won't be able to fix? Veneers can be used to address all of these cosmetic issues – in fact, you can often make multiple corrections at once thanks to a single procedure!
3. Crown Lengthening
Look in the mirror and see how the gums look compared to your teeth. Does it look like the gum tissue is overly large or like your teeth are unusually small? This is what's known as a "gummy smile"; if you have this condition, you could benefit from a procedure called crown lengthening, which is where a minimal amount of gum tissue is removed to expose more of the underlying tooth structure. Thanks to this treatment, you'll finally be able to enjoy a smile that lets your pearly whites shine.
4. Metal-Free Restorations
Do you have an older metal crown that needs to be replaced soon? Consider getting a metal-free crown made out of dental ceramic; it'll do the same job of protecting and strengthening your tooth but with the added benefit of blending in with the rest of your smile to the point where casual observers won't even realize you have a crown.
Every smile is different; when you see your dentist during your initial cosmetic consultation, make sure you explain exactly what it is you want so that they can pick a treatment that helps you reach your goal. Give yourself the gift of confidence with a new, enhanced smile!
About the Practice
At Tylan Creek Family Dentistry, our team of dental experts make your family's smiles their top priority. In addition to general and preventive dental care, they have years of training and experience in placing porcelain veneers and performing teeth whitening as well as other cosmetic procedures. To schedule an appointment, visit our website or call (864) 407-4455.