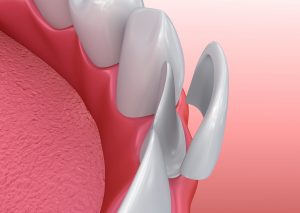 If you have a less than perfect smile, you don't need to hide behind your insecurities anymore. You can get the smile you've always wanted with porcelain veneers in Piedmont. The thin shells cover a wide range of imperfections to improve the overall color, size, shape, and proportion of a tooth, but are they right for you? If you've lost teeth or have existing dental work, you might still be a candidate for the treatment. Here's what you need to know to achieve your dream smile.
What is a Porcelain Veneer?
Veneers are a popular choice in cosmetic dentistry because they can resolve several imperfections using one minimally invasive procedure. A custom-made thin shell is bonded to the front surface of your tooth to instantly cover your aesthetic concerns.
Since veneers are now made of porcelain, they are thinner, so less of your tooth's structure is removed during the bonding process. Keeping more of your enamel intact makes the treatment less invasive. Your results will also look natural because porcelain closely mimics your enamel.
How Can Porcelain Veneers Help Me?
Your cosmetic dentist in Piedmont can use veneers to enhance your smile in as few as 2 appointments. They can correct a variety of issues, including:
Stains or discoloration that won't respond to whitening treatments.
Chipped, cracked, or abnormally shaped teeth.
Shorter than average teeth.
Close gaps between teeth.
Cover minor alignment concerns.
You'll need a thorough consultation with your dentist to evaluate your aesthetic concerns and discuss the results you want to achieve to ensure veneers are the right choice for you.
Can I Get Porcelain Veneers If I Have Existing Dental Work?
Believe it or not, you might still be a candidate for porcelain veneers if you have existing dental work, like a crown or bridge. They may also be a suitable option if you've replaced missing teeth with dental implants. Your dentist will evaluate your dental work and aesthetic goals to create a customized treatment plan.
It's often recommended your veneers are placed at the same time as your restorations to ensure they match. This creates more seamless results to maintain a natural-looking smile.
Get a Beautiful Smile Today!
You don't need to live with a less than perfect smile. You can get the flawless results you deserve with the help of your cosmetic dentist. Whether you have a crown or dental implants, you may still be a candidate for porcelain veneers. Take your first step toward improved confidence with the help of your dentist.
About Tylan Creek Family Dentistry
Our office strives to provide personalized dental care that caters to you. Our team provides complete services using advanced techniques to treat even the most complex cases. Besides the health of your teeth, we also offer the services you need to improve their appearance. No matter if you are missing teeth or what to enhance your smile, we can help. Contact our office today to schedule an appointment.