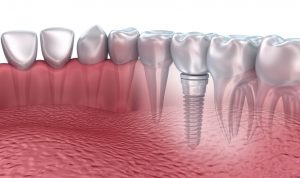 Having to live your life with missing teeth is the pits. You can't eat all your favorite crunchy or healthy foods, and you sometimes lisp or whistle when you try to speak. There are ways to replace your missing teeth – like dental implants in Simpsonville – but the process isn't easy. Fortunately, your dentist is here to walk you through the process and what you can expect at every step of the way.
Initial Consultation
The first order of business is seeing your dentist in Simpsonville for a consultation to see if dental implants are right for you. They will evaluate your general and oral health to see if you are a good candidate. If they determine that you are, they will take detailed impressions and x-rays of your mouth to figure out exactly where the dental implant will go. You'll discuss a plan for treatment and how long it will be before your new pearly whites are ready.
Bone Graft
If you have dealt with tooth loss for some time, chances are your jawbone has deteriorated to some extent, which is to be expected when you're missing one or more tooth roots. In that case, you'll have to undergo a bone graft to make sure your jawbone is strong enough to support implants. This procedure entails taking bone material from elsewhere on your body, or a synthetic bone material, and grafting it onto your jawbone. Then, allow your jawbone several months to heal.
Implant Placement
Next, your dentist will place the screw-shaped titanium implant into your jawbone that acts as the anchor for your new prosthetic tooth. This procedure will take an hour or two, and you will most likely be asleep, thanks to anesthesia. After placement, you'll have to take a few months for your jawbone to heal and grow around the implant post.
Abutment Installation
The abutment is the metal attachment that screws onto the implant and eventually supports the crown. Your dentist will install the abutment and then place a temporary crown while your permanent one is being crafted.
Permanent Crown Placement
After your soft tissue has healed from the abutment placement, you're ready to receive your permanent crown. This is the visible portion of the tooth that will blend into your smile. Once it's placed, ta-da! Your smile is essentially as good as new.
The dental implant process is long and a little complex, but it will be well worth it to receive an artificial tooth that looks, feels, and functions just like your natural one.
About the Author
Dr. Darryl Halbert achieved his Doctor of Dental Medicine degree from the Medical University of South Carolina before relocating to practice at Tylan Creek Family Dentistry. He has undergone numerous continuing education hours in surgical implantology, so you can trust that your new smile will be in capable hands. To learn more, click here to contact Dr. Halbert's office.